In an effort to attract desirable applicants, some medical schools and residency programs invite candidates to social events immediately before or during the interview day. The events usually include dinner, lunch, or even drinks with the students or residents.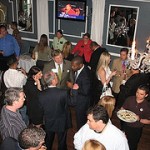 It's in your interest to attend these events: They show institutions that you are serious about their programs, afford you the opportunity to score social points, and allow you to gain valuable information about the students' or residents' satisfaction.
One insider piece of advice, however: Ensure you act professionally even if you are told that what you say will not affect your candidacy or get back to admissions. Even if everyone has good intentions, information garnered from these events can make its way to decision-makers. If you had a bad experience at the interview day, have a significant other who doesn't want to move, or know your first choice is a different program, these social events are not the time to reveal that information.
For insider help with medical school or residency interviews, contact me.