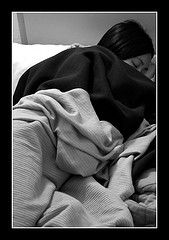 As a resident, I spent one horrific week on my surgical rotation clocking 138 hours in the hospital…and I slept only 6 1/2 of those. By the end of the week, I had decided to quit residency. Fortunately, a good night's sleep helped me turn that decision around.
Pauline Chen MD recently wrote a piece in the New York Times called "The Impossible Workload for Doctors in Training" in which she argued that the ACGME's (Accreditation Council for Graduate Medical Education) work hour improvements over the last decade have not been effective. After the Libby Zion case, the ACGME started mandating fewer work hours for residents for their safety and the safety of their patients. The most recent (2011) rules do not allow interns to work more than 16 consecutive hours.
Dr. Chen's point is that because the volume of work has increased, limiting the number of hours has not been an adequate way to address the problem of over-tired residents. In other words, even if someone is working fewer hours, if she's managing many more patients in a shorter time period, safety is still a major concern. There are studies and anecdotes to support her assertion that are cited within the article.
Of course, the solution is not to go back to the previous work hours –  nor to continue as is. More funding needs to be allotted to residency positions. Not only would this alleviate the workload problem, it would mitigate the physician shortage crisis. We have a lot of medical students; the bottle neck comes in residency positions. If we had more training spots, we could train more doctors and consequently, offer more primary and preventive care, while providing increased safety to residents and their patients. It would be a win-win-win.
That week on my surgical rotation was particularly bad, but I had many, many others that were also minimally human. We would not accept heavy or dangerous work loads for pilots or police officers. We need to reject them for doctors-in-training as well.