Improving your Residency Application: Multimedia CD-ROM
Getting into Residency
Dr. Michelle Finkel, a former Harvard Medical School faculty member, draws on years of applicant selection to lay out concrete steps you can take to distinguish yourself as a candidate for competitive residency programs. Supporting her assertions with hard statistics, Dr. Finkel's multimedia CD-ROM offers her unique expertise on topics of immediate relevance such as: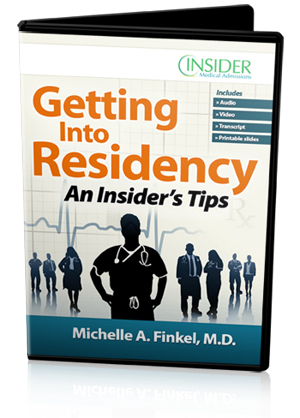 Choosing rotations and extracurricular activities to highlight your commitment to your field
Selecting letter of recommendation writers and improving the content of those letters
Writing a cohesive and compelling personal statement
Avoiding common pitfalls in the ERAS®
Preparing for interview questions and distinguishing yourself from the multitude of strong candidates on interview day
Creating a final Match list
Buy Your Copy Today
Single Copy: Getting Into Residency: An Insider's Tips – $14.95
(Multimedia CD-ROM includes Audio, Video, Transcript and Printable Slides)
Sold out. Contact Us if you'd like to order a demo copy.
Michelle A. Finkel, M.D.
Dr. Finkel graduated from Stanford University, Harvard Medical School and the Harvard Affiliated Emergency Medicine Residency (HAEMR) program. While on faculty at Harvard, Dr. Finkel served on the National Council of Emergency Medicine Residency Directors® and received numerous honors, including the HAEMR Faculty Mentorship Award. In addition to her medical accolades, Dr. Finkel's depth of professional writing experience includes her selection as a Mass Media Fellow in Science Writing, sponsored by the American Association for the Advancement of Science®. Dr. Finkel has published in academic journals, on-line textbooks and as a science writer for the Oregonian® newspaper. She is a practicing Emergency Physician and founder of Insider Medical Admissions, a medical admissions consulting company.
---
©2011 Michelle A. Finkel, M.D. All rights reserved. The institutions and other third parties referenced in this product are neither associated with nor are sponsors of Insider Medical Admissions. The trademarks and/or servicemarks of such third parties that appear in this product are owned by the respective holders, and such references do not constitute or imply endorsement or recommendation by the trademark owner of Insider Medical Admissions or its services/products. There is no implied or explicit guarantee that this product will improve listeners' admissions results.